Yo Boys! Biggest questions for the one-sided lover that how to make a girl yours through conversation. In similar word how to turn a girl switch on to start a conversation with you so, here your answer is.
#1 Man The Fuck Up!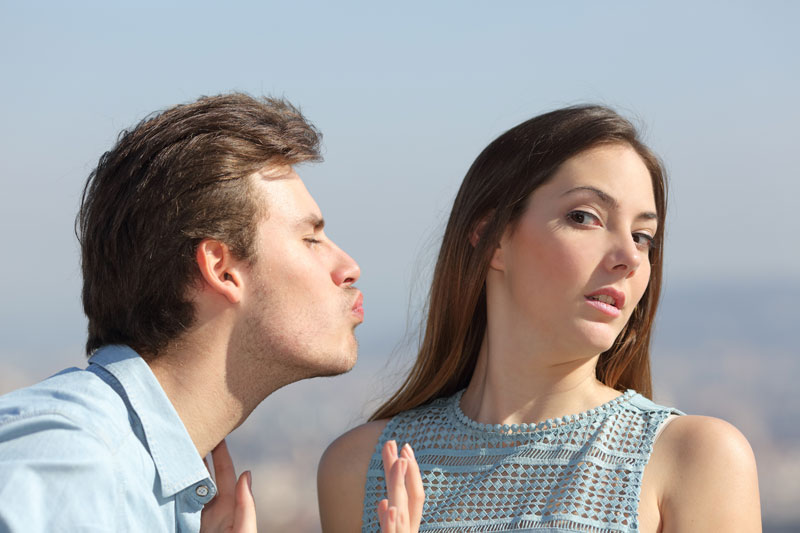 Yeah, you heard me Right! When you approach the girl you like or you're talking to the girl you like, don't approach her from the side and do that awkward side talk thing. Remove that! Don't tiptoe and circle the girl like a vulture when you first go to talk to her. That's a huge no-no! Show her you're a man, approach her from the front, square your shoulders up with hers, and make eye contact with her when you introduce yourself.
A lot of guys are too nervous to just go up and approach a girl like a normal person that they do all these weird things like the approach from the side or from behind and it actually makes you look like a huge creep. Guys do this to be non-threatening and to not weird the girl out but it actually ends up backfiring and making you look like a huge weirdo! These are all defense mechanisms that guys use to avoid doing what they know they should, which is simply going up to the girl like a normal human being and introducing yourself and saying "hey I'm here." Be assertive, be confident, and be a man!
#2 Certainty
This is similar to point #1 about being a man. If you're out in a nightlife environment, you gotta understand that it is chaotic. There's music, there's alcohol, there are tons of people crowded all over the place, there are bouncers yelling at people, and the girl's friends are all over the place. It's just chaos and anarchy and there's a lack of structure and certainty. So when you decide to man up and you show up to the girl and you have certainty in your actions and you lead her and the interaction properly, she'll be more likely down to hang out with you because she sees you as the person who's gonna make the decisions and provide certainty in this chaotic environment.
You should have certainty in your body language, in how you speak, and in your game plan for the night. So if you want to move from the dance floor to the bar with the girl, you should simply say something like "hey let's head to the bar for a second" and lead her in that direction. If you say it in a nerdy unconfident voice like "hey uh do you wanna maybe uh go to the uh bar" then there's is no way she's gonna follow you. She probably won't even hear you over the blaring loud music! This is why having certainty is so important, it's a psychological thing that's really important in the chaos of a bar or a club because it makes the girl feel safe and secure with you. Also, a lack of certainty shows a weak and flimsy personality that girls won't be impressed by and will see right through. For this reason, certainty in how you speak, carry yourself, and communicate to her is KEY.
#3 Fragrance
The fragrance you wear and how you smell is absolutely ESSENTIAL to making a girl sexually attracted to you. Whether it's a daytime environment or a nightlife environment, wearing a strong, seductive fragrance will instantly boost your sexual appeal by a few points in the girl's mind. Smelling like a boss is KEY, especially if you're the type of guy who likes to go out and meet girls at parties, bars, and clubs. In nightlife environments like this, having a strong and sexy fragrance will easily separate you from 90% of the guys who smell like sweat and booze, so this way you'll be MILES ahead of them.
#4 Vocal Tonality
A huge part of communication with girls is the sub-communication that's happening throughout the entire interaction. This is why I always stress the importance of body language and presence when talking to girls. A huge part of this sub-communication is your vocal tonality. Vocal tonality is just the way you speak to someone, BUT, your vocal tonality plays a HUGE role in making a girl attracted to you. The first part about vocal tonality is projection, aka how well your voice projects. When you speak, you should speak from your diaphragm which is located in your stomach, this allows your voice to project better and come off as louder and clearer.
Projecting your voice like this makes your voice sound way more confident and way more charismatic as opposed to speaking in a normal low tone. The second part about vocal tonality is your tone, now I know, I know, not everybody can have a good voice but speaking in a slightly lower tone signal to the girl that you're confident and you're not seeking approval. While speaking in a higher pitch tone is indicative of seeking approval and validation.
A good rule of thumb is to avoid ending sentences in a higher pitch tone because it indicates that you're trying to get the other person's approval or validation. Rather, when you end sentences in a lower pitch tone it indicates that you're speaking freely and without the filter, aka you're not trying to get the other person's approval. Think about how a boss talks to an employee, they typically speak in a lower pitch tone, while an employee speaks in a higher pitch tone to their boss. This sub communication indicates a person's status so for this reason, it's better to avoid using a higher pitch tone when speaking to people.
#5 Signal abundance to the girl through humor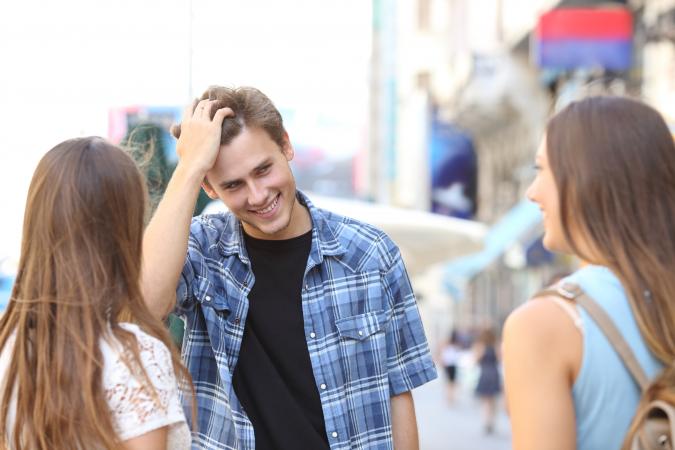 Basically, abundance is when you show the girl that you have an abundance of girls, dope shit, and other people in your life. But showing abundance through humor is a REALLY easy way to get a girl turned on. Not being afraid to say what you want and make jokes that are funny to you shows the girl that you're not needy because it makes it clear to her that you're not seeking her approval or trying to change yourself for her. It sounds counterproductive but when you don't need her approval and don't care if she likes you, it actually makes her like you more. When you're comfortable enough with yourself and who you are that you talk about whatever entertains YOU and whatever YOU find funny, girls will flock. When you're not overly desperate or needy then it makes her like you that much more. And that's it.